Quality Policy (ISO9001)
Artiza is committed to earning our customers' continued confidence in the quality of all our products and technologies.
Our quality policy was established to complement the management philosophy of our company.

Intrinsic to our quality policy is a promise to continuously improve the effectiveness of our quality management system in order to meet the needs of our customers. Moreover, we persist in fulfilling this promise by implementing new and better systems.
By establishing clear benchmarks for quality and frameworks for reviewing our progress to those goals, our quality policy defines the direction of our company.

Our quality policy is set forth in each department, and considered common knowledge for all employees.

In our annual management review, we ensure that fulfillment of this quality policy has been thoroughly carried out.
ISO9001
Artiza Networks, Inc. is certified under ISO9001, the international standard for quality management systems.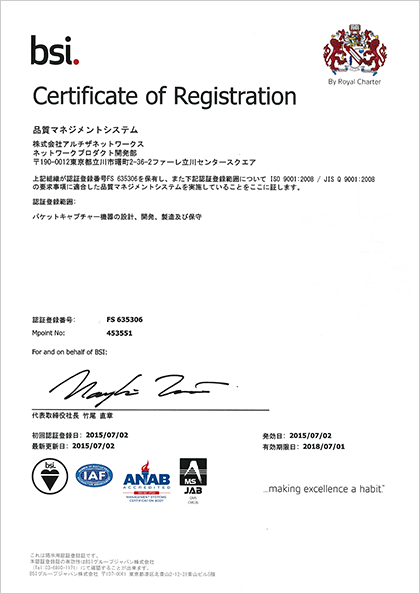 Certification
Registration
No
FS 635306
Mpoint No
453551
Registered
Company
Artiza Networks, Inc.
2-36-2 Akebono-cho Tachikawa Tokyo 190-0012, Japan
Scope
Design and development of packet capture, as well as manufacturing and maintenance.
Effective
Date
July 2, 2015
Standard
ISO 9001:2008/JIS Q 9001:2008
Certification
Agency
BSI GROUP JAPAN